Samsung Electronics is about to introduce its new fifth generation smartphone in Galaxy S series. An event will be host by Samsung at Barcelona's Mobile World Congress. According to a tweet by Samsung's team:
"Unpacked 5″ is scheduled for Monday, Feb. 24 at 2 pm. Eastern Time in Barcelona"
Invitations for the event have already been sent out to the journalists. This event is considered as the key event for the company. People have a lot of expectations this time. Because the previous model Samsung S4 didn't fulfill public's expectations. But still the model managed to perform well any how. However it wasn't that much good according to the financial point of view. Because the sales of Galaxy S4 went much weaker than expected.
According to the reports,the event won't be like the previous event which was for the launch of Samsung S4. Previously the event took place at New York's Radio City Music Hall and it seemed more like a Broadway show than a typical tech-industry presentation. The event included singers, dancers, an orchestra and even an emcee. Learning from the past tips, this time Unpacked 5 will be more subdued in tone.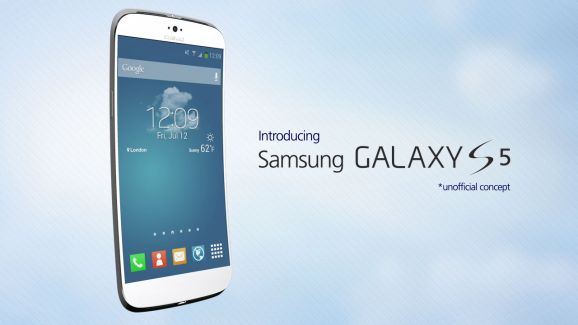 Galaxy S5 design and features
The rumors about the phone's design and features have been circulating in the Korean press. Previously, it was revealed that new Samsung Galaxy s5 will be manufactured in Vietnam in January, 2014. The phone is set to get an upgrade. The latest Galaxy s5 is expected to feature a big resolution screen, 64 bit smartphone processor and an improved rear camera (featuring 16-Megapixel lens, with optical image stabilization). It will feature 5- to 5.2-inch big screen with a resolution of 2560×1440 pixels. The bigger screen is expected to lead the phone to sharp jump in its sales. Moreover you will also see the major changes in the latest device including waterproofing and dust proofing. Also the phone is rumored to feature bio-metric functions such as iris recognition or a fingerprint scanner. In addition to this, it also might feature eye scanning technology which will allow the phone to unlock itself once it has scanned your eyes.
Probably the phone will come with an amazing Galaxy Gear smart-watch. Coming towards the operating system, the phone is expected to come up with its own launched running Samsung's Tizen operating system. However, assumptions also reveal that it might arrive with running Android 4.4 KitKat. The phone is also expected to tip quad-core chips and 4 GB of RAM. The images of Samsung S5 reveal that it's body has been designed with combination of aluminium and the faux-leather look of the Note 3. This will provide the phone a premium touch and feel. Samsung will feature an amazing and refreshing touch-wiz user interface. The interface features brightly colored tiles with sports results, messages from contacts, flight updates, fitness monitor, maps, local events and many more.
There have been no announcements for the release' timings and prices of the phone yet. However, analysts suggest that it might release in April, 2014 internationally. The price could range from $700 or up for an unlocked set. We will keep on updating you. Stay tuned with us.