Recently the annual Mobile World Congress event took place at Barcelona. The latest smartphones, tablets, iPADS and other technological devices of 2014 were showcased on the show. The traditional Global Mobile awards also took place. More than 175 independent analysts, journalists, academics and subject matter experts throughout the world participated in this event to judge the best devices. Samsung Galaxy S5 because of its high end specifications and features was regarded as the best smartphone of 2014.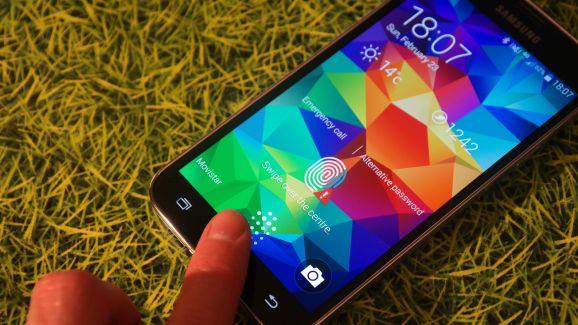 Phones and tablets editor Gareth Beavis explains,
"This was easily the hardest category to judge, as there were a lot of
great choices on show. Both Sony and Samsung's phones have lots of really great features and will be big hitters this year, while HTC managed to offer something impressive at a mid range price point.

"But the overall combination of power and features users actually want over the useless, gimmicky 'innovation' seen on S4,
swung it for us."
The phone became the talk of the entire show. No one could beat Samsung Glaxy S5 in terms of desirability. It is expected to be available in the mobile market in the first half of year 2014. Gareth talked about the phone at the show:
"It's only fitting a phone should win Best in Show at MWC, and the Galaxy S5 is a phone that a lot of people will be proud to own.The need for a standout feature on a new smartphone has diminished in recent times, and now users are getting phones that actually do what they need them to, which the S5 embodies well."
Read Also: Smartphone Buyers Guide – Things You Must Consider While Buying
Below we have stated the reasons behind why the Samsung Galaxy S5 was regarded as the best smartphone of the year.
1. Advanced Sensors:
Samsung Galaxy s5 features many advanced sensors. These sensors include fingerprint sensor, heart rate monitor, and IR blaster. Fingerprint sensor is very useful for the security purpose of the phone, Heart rate monitor for the fitness purpose and IR blaster for hotel room TVs.
2. Dust And Water Resistant:
Samsung Galaxy S5 is resistant to dust and water.
3. Samsung Knox 2.0:
Samsung's Knox technology offers you with amazing security options which are very beneficial according to the business point of view.
4. Battery And microSd card slot:
The phone features removable battery microSD slot for the storage of amazing apps, media and other improtant files.
5. Gear 2 and Fit connectivity:
The company has been updating its smart watches offerings. This is very useful for the business men for their important incoming notifications. Gear 2 and fit connectivity are two important functional extensions of the company's experience.
6. Latest Mobile Processor:
Samsung Galaxy S5 is powered up with the latest mobile processor Snapdragon 801 processor.
7. Camera Software:
Samsung Galaxy S5 feature advanced 16MP camera with enhanced user interface and amazing functions. Its now easy to capture any kind of pictures with your Samsung S5 camera.
8. Large Display Yet Pocket-able Phone:
Samsung Galaxy S5 features a large display of 5.1 inches. Such large display is suitable for texting and viewing your important files and documents on the screen.
9. Improved UX:
Samsung TouchWiz is amazing. Samsung has come up with new amazing interface looks. Business users will have option for customization.