IMEI number is used for tracking phone. Lost your phone and don't know its IMEI (International Mobile Equipment Identity) number so that you can report it to concerned authorities. Here you can learn how to find yours lost phone's IMEI number.
Smartphone are considered to be the basic necessity for many these days. It happens many times that we lost our phone or sometimes it gets stolen. In all these cases we need an IMEI number to report the incident to Telecom operators or law enforcement agencies. IMEI stands for International Mobile Equipment Identifier. IMEI is a unique serial of numbers which is assigned to every digital GSM phone in the world. This unique number is used for phone tracking.
It is much better to keep IMEI remembered are noted somewhere else where you can find it anytime later either in your email box or on notebook. When you report about your lost phone to concerned authorities, they track your lost smartphone by IMEI Number.
There are simple ways to find the IMEI number of your phone. You can find the IMEI by going in your phone setting and then in about option. You can also find International Mobile Equipment Identity number by simply dialing *#06# from your phone dialer.
But if you didn't noted down your phone IMEI and you have also lost the box or the purchasing receipt then you can also track it down.
 Here we tell you the methods to find lost or stolen iPhone, Android and windows phone's IMEI number.
How to find lost iPhone IMEI number?
Open iTunes  on the PC
Go to iTunes -> preferences -> devices -> select Device backups
Hover the mouse pointer over any of the backups and wait for the details to appear. Your iPhone's IMEI  will appear in pop up above pointer.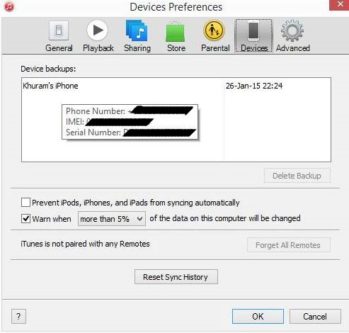 How to find lost Android phone IMEI number?
The IMEI of your any android devices is synced with your Google account.
Simply go the google.com/settings.
Login to your Google account.
In the dashboard expand Android tab and you will see all of your devices registered here with IMEI detials.
How to find lost Windows phone IMEI number?
Open "accounts.microsoft.com" and login with the Microsoft account used on windows phone.
Go to the Phones tab and select the particular device. Click on the link "Find it, get support, and more…" next to the device.
Scroll down to the Support section. Here, under "Hardware/System Info", you can find the current OS version and the IMEI details of the device.