The field of Telecommunication Engineering consist on many internal technical departments, including BSS, NSS, Core, MS, Datacomm, RF, Transmission etc. In this era of smartphones everyone want to use apps which are beneficial for them. There are many handy apps that can be beneficial for you if you are in Telecommunication field. Here we have analyzed and discussed 10 useful android apps for Telecommunication engineers.
10 Useful Android Apps for Telecommunication Engineers
10-GPS Essentials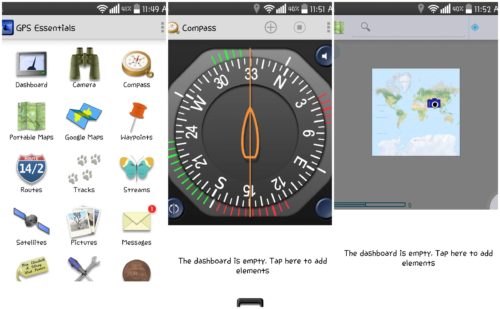 The most complete GPS app available  on internet is GPS Essentials. It facilitate you to Navigate, manage waypoints, tracks, routes, and build your own dashboard.Below we have discussed every function of this useful android app in details.
Dashboard
Shows navigation values such as: Accuracy, Altitude, Speed, Battery, Bearing, Climb, Course, Date, Declination, Distance, ETA, Latitude, Longitude, Max Speed, Min Speed, Actual Speed, True Speed, Sunrise, Sunset, Moon set, Moon rise, Moon Phase, Target, Time, TTG, and Turn.
Compass
Show the orientation of the earth's magnetic field, shows an arbitrary tracking angle and the current target. Also a marine orienteering compass.
Tracks
Record tracks and view them on map. Export KML files and import into Google Maps, Google Earth and others.
Routes
Manage routes and view them on map. Import KML files from Google Maps, Google Earth and others. Create turn-by-turn instructions between waypoints.
Read Also : How to Find Lost Phone IMEI Number of Your Windows,Android and iPhone?
Camera
A camera HUD (heads-up display) view to show your waypoints, take pictures and share them.
Map
A map to show your waypoints. Convert mail addresses of your contacts to waypoint so that they can be used within the app.
GPS Essentials also Supports Google Maps,Google Maps v2, MapQuest, OpenStreetMap, Indoor Maps, Traffic, Buildings, Satellite and Terrain layers and map rotation.
Waypoints
A list of all your waypoints with export and import (KML, KMZ, GPX and LOC format).
Satellites
A sky view of the current positions that shows satellites in view.
Features
Supported position formats: UTM, MGRS, OSGB, Degree-Minute-Second, Degree-Minute-Fractions, Decimal, Mils. Supports over 230 datums.
Waypoints, routes and tracks can be exported as KML or GPX files and sent by email or uploaded to Google Docs or DropBox.
Download [GPS Essentials]
9-GSM Signal Monitoring
GSM Signal Monitoring is an advanced network monitor that helps you to watch the state of cellular network by gathering data about cell towers (cell Id, LAC, MNC, MCC, signal strength, speed etc.). The app supports GSM, UMTS and LTE networks.
Charts in the app show the changes of strength level and speed of mobile connection. Log and Statistics display the data about cells which were used by a mobile device. After importing of CLF file containing cell locations data can be displayed.
Note: If you are using dual SIM device the app will work only with the SIM inserted in the first slot.
Download [GSM Signal Monitoring]
8-OpenSignal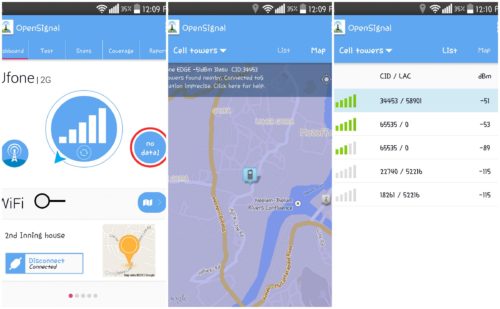 With OpenSignal you can map cellular coverage, find Wi-Fi hotspots, test and improve your reception & get faster data. Below few things help you to use this app.
Signal compass points you in the direction your signal is coming from, just walk towards it.
WiFi map allows you to easily locate nearby public networks.
Coverage maps allow you see the best places for signal.
Speedtest feature allows you to see the true speed of your connection (download, upload & latency)
NetworkRank allows you to see which carrier is best in your area.
See a map of local cell towers.
Download [OpenSignal]
7-Anti Jammer FREE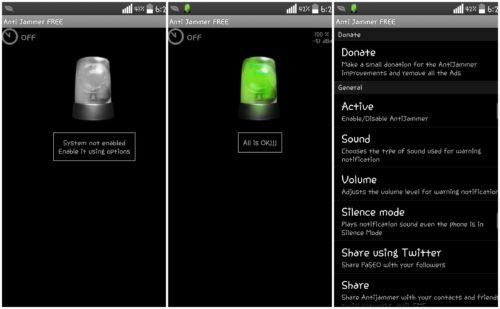 Do you have in your house, apartment, villa, an alarm connected to a central alarm using GSM wireless technology?Most of these alarms work by sending messages to the alarm central when an unauthorized access to your home event is produced. Most companies of alarm installations are using GSM communication.Do you know what easy is to avoid the communication with the central alarm monitoring system?There are many devices capable of inhibiting the GSM signal. This devices are used to disable the use of mobile phones in certain public facilities such as hospitals, libraries, conference rooms, etc.
Anti Jammer is a FREE simple application for Android for detect the possibility of inhibition (disable) of GSM signal of your alarm system at your home for example, while you are sleeping. AntiJammer will play a siren sound on your phone that it will alert you in case there is a GSM signal failure that it could be produced for the use of a jammer. Anti Jammer will not replace your alarm system device, it will complement it!!!
Additionally, Anti Jammer also be used to identify some areas where your cell phone runs out of coverage.
Download [Anti Jammer FREE]
6-G-NetTrack
This is a fieldtest/netmonitor application for UMTS/GSM/LTE/CDMA/EVDO network. The application monitors the serving CELLID, LEVEL, QUAL, MCC, MNC, LAC, technology, cell serving time and neighbor cells CELLID/PSC and LEVEL.
LEVEL and QUAL depend on technology:
2G – RXLEVEL and RXQUAL
3G – RSCP and ECNO
4G – RSRP and RSRQ
Only for 4G also SNR and CQI are monitored
Measurement availability depends on the phone (Click to Check phone measurement capabilities).
Pro version of G-NetTrack has some with additional following features.
INDOOR measurements
AUTO INDOOR mode for tunnels and places with bad GPS reception
added chart with serving and neighbor cells levels
Floorplans loading
New 3D map – different types of maps, 3D buildings, maps autocacheing
LTE serving and neighbor cells measurements
Predefined routes loading
Unlimited number of cell layers and custom cell colors
SMS test sequence for monitoring SMS successful sending and delivering
Screen orientation change (portrait/landscape)
Download [G-NetTrack]
5-Clinometer (Tilt meter)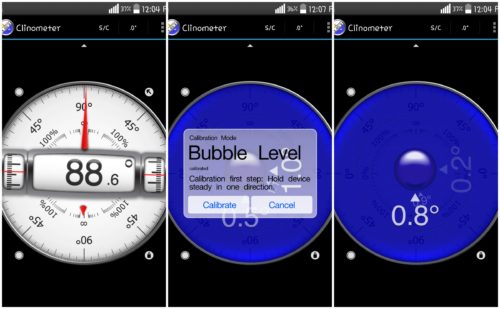 According to wikipedia: An inclinometer or Clinometer is an instrument for measuring angles of slope (or tilt), elevation or inclination of an object with respect to gravity. It is also known as a tilt meter, tilt indicator, slope alert, slope gauge, gradient meter, gradiometer, level gauge, level meter, declinometer, and pitch & roll indicator. This app is very handy to use as a tilt meter while measuring the tilt of antennas on GSM towers.
Download [Clinometer]
[quads id="1″]
4-Smart Compass
This compass is a tool to search bearings (azimuth) using the built-in magnetic sensors. This smart compass app has 5 significant features.
You may turn the phone into portrait or landscape mode, the heading is fixed.
The Camera's view is used for reality.
Metal Detector is included to verify the magnetic sensor.
GPS is supported.
You can use your smart compass into different modes e.g Telescope mode,Night mode or Digital mode.
The compass app depends on the performance of your device exactly. If the compass works perfectly, it means that your sensors are perfect, too.
If it is inaccurate, please check that you aren't being affected by a magnetic field. Also, there are several options to calibrate your device.
Download [Smart Compass]
3-Connection Stabilizer Booster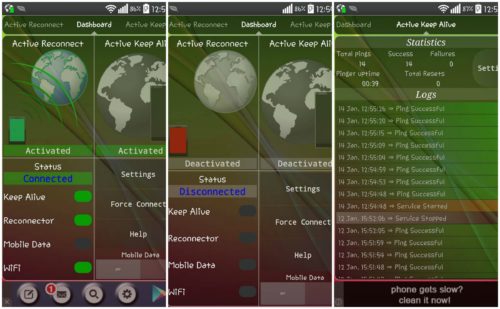 Does your device often lose data signal and is unable to reconnect even though network is available? Do you miss out important chats, IMs and emails until you turn data connection on and off, maybe multiple times to get reconnected? That is a known issue that affects many people. It can be caused by handset or carrier issues.
If you are having trouble with your cellular data connection, this is the app for you. Loaded with lots of powerful features, this app delivers stable mobile internet connectivity.
Connection Stabilizer Booster is the best mobile data connection stabilizer, reconnector and booster for 2G GPRS, EDGE, 3G and 4G LTE wireless networks.
Download [Connection Stabilizer Booster]
[quads id="1″]
2-Netmonitor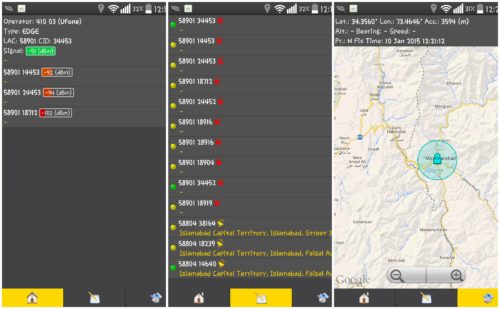 This app Monitor GSM/CDMA and LTE network, current and neighboring cell info's, signal strength. Use GPS/geolocation. Generate database with custom info on cells. Export log to file CLF/KML. Map shows cell location. List of WiFi access points.
Download [Netmonitor]
1-Google Maps
The Google Maps app for Android phones and tablets makes navigating your world faster and easier. Find the best spots in town and the information you need to get there. Google maps are now more powerful with following features.
Comprehensive, accurate maps in 220 countries and territories
Voice-guided GPS navigation for driving, biking, and walking
Transit directions and maps for over 15,000 towns and cities
Live traffic conditions, incident reports, and automatic rerouting to find the best route
Detailed information on more than 100 million places
Street View and indoor imagery for restaurants, museums, and more
Though Google maps comes default with android. If you need them for iPhone or iPad you can download from here.