LG is now set up to expand its series of L range smartphones. LG L series have contributed a lot in the market of smartphones. And now, the company has veiled its three new third-generation devices titled as LG L Series 3 i.e. L90, L70 and L40. These three smartphones are set to launch in the upcoming LG event at Mobile World Congress on 24th February, 2014 in Barcelona. All three smartphones will run on Android 4.4 KitKat operating system. Another great feature is all these handsets will have 3G connectivity with different speeds. The custom user interface of all these handsets is superb too. Furthermore all handsets include HSPA+ connectivity, Bluetooth , GPS, Wi-Fi connectivity. However L90 will feature more high specifications than L70 and L40. All of these handsets will be available in White and Black colors. LG has already released the promo video for the L Series 3. The handsets will be affordable along with edge cutting specifications and amazing features. The entire LG L Series 3 is budget minded in terms of specifications. Below check out the specifications and features of these three handsets.
LG L Series 3 Specifications & Features: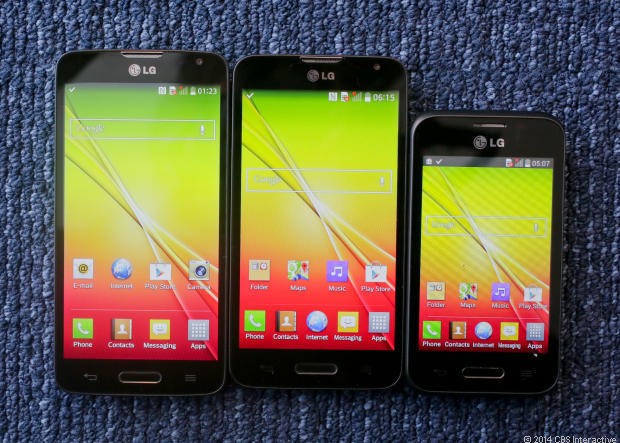 Handset LG L90:
LG L90 features 4.7 inches screen with 960×540 pixel resolution (qHD). The phone measures 131.6mm by 66mm by 9.7mm in dimensions. Talking about the design, all three handsets ressemble in design. The handset features rounded corners, oblong physical home button, and textured backing just like cardboard. The handset features include quad-core processor, 1GB of
RAM, 8GB of internal storage, 8-megapixel rear camera along with a 1.3-megapixel sensor in the front and removable 2,540mAh battery. Tis handset is rumored to be launch in March.
Handset LG L70:
LG L70 features 4.2 inches screen which is just 0.2 inch shorter than L90. The resolution of this phone is 800×400 pixels. The phone measures 127.2 x 66.8 x 9.5mm in dimensions. Other features include 1.2GHz dual-core processor, a 2,100mAh removable battery, 4GB of built-in memory, 1GB of RAM and 8 or 5-megapixel rear-facing camera. Plus there is also a VGA front-facing camera for video calls option. Also the handset can expand 32GB in extra storage. This android phone will be available at a very affordable price.
Handset LG L40:
This handset features only 3.5 inch display screen with 480×320 pixel resolution. This handset is smaller and bit thicker in size than the L70 and the L90 models measuring 109.4 x 59.0 x 11.9mm in dimensions. The handset's features include 1.2GHz dual-core processor, 4GB of internal memory, 512GB of RAM, 3-megapixel camera on the back, 1,700mAh or 1,540mAh removable battery. The phone is expected to be available at very cheap price.
Conclusion:
All these smartphones of LG L Series 3 will be available at very affordable prices. However, it is also expected that LG will showcase some higher-end devices at the MMW event. We will update you as soon as we get more information and additional details about these handsets. Stay tuned with us for more updates.