What is Blackbox Connect 2014:
Blackbox Connect 2014 is a 2-week engagement program by Google.  Blackbox gives opportunity to non-US start up founders to pay a visit to Silicon Valley and cooperate with compatible people while staying at the Blackbox Mansion. Google Entrepreneurs sponsor this two-week session once in a year and choose selective entrepreneurs from all around the world. This program is devoted exclusively to non US start ups. It has hosted start ups from 25 different countries. Fadi Bishara is from Syria and he is the founder of this program. Fadi bishara said:
The main aim of Blackbox is to boost the confidence of people and to show they're up there with Silicon Valley start ups.
The good news for  Pakistan is that, they are again shining in this event. Last year in July 2013, Ali and Murtaza represented Eyedeus with their most famous app Groopic by Eyedeus Labs. This app featured a unique idea of taking group photos and the photographer is included in the photos later. From Tunacode, Salman represented his company that developed accelerated computing systems via graphic processing units. The company is expert  in developing high performance video/image processing applications.
Fadi Bishara recently paid  a visit to Pakistan to observe the tech environment here.  Bishara signed an agreement with Plan9.  The agreement says that each year it will mentor two Pakistani start ups into the Blackbox Connect 2014 program in California. Blackbox  rush four or five such two-week programs yearly.
Read Also: Jumpstart Pakistan- Another Milestone in Pakistan's Entrepreneurship
Bishara views that "Diversity is key to success,"  in terms of Blackbox, and tech ecosystems while talking to Tech in Asia via Skype from Lahore. He explained that various nationalities at the Blackbox program cultivate cooperation and  slaughter  conflict.
Throughout  his trip, Bishara said he was astonished with the strength of technical talent of Pakistan's  especially in science and engineering added  by good English skills. He added that: The basis for that is a good education system, in spite of  the many other infrastructure issues and  instability in the country.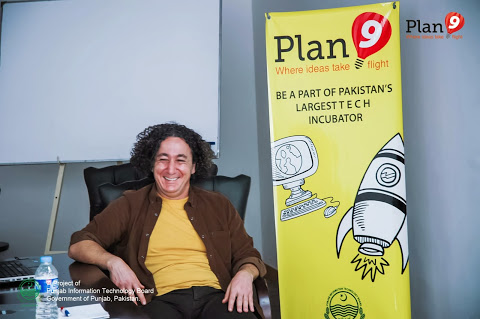 UNESCO and Western Media pictures  a different  dimension  of the overall education system  in Pakistan. Especially, for Rural areas and for females who are often deprived  from the opportunity  to study. It seems  obvious  that some urban schools are playing their role well with their technical education. They have helped to flourish the nation's business people in the  IT services and business outsourcing (BPO) industries. This shows that there is immense talent in Pakistan. Although, fundamentalism and terrorism has spoiled the soft image of Pakistan.
Tech startups in Pakistan are really hardcore technology – even more so than in Silicon Valley. -Fadi Bishara
Pakistan has already flourished  few young startups that  mark globally like  Groopic and  enterprise collaboration tool Convo. Bishara inspire  more  and more Pakistani entrepreneurs to focus at worldwide markets he says:
If you solve issues in Pakistan, that could be a solution in Peru as well.
He added,
It's still good to focus on solving local issues, and the home market can be used to validate startup concepts.
Now it's up to the talented entrepreneurs to  grab the opportunity to glam at the international level. Following are the two most expected nominees that will hit Blackbox Connect 2014.

SmsAll:
Idrees Butt is in the lime light. This guy is making his team proud again with another landmark under the guidance of the genius and extremely talented Umar Saif. SMSall is also known as chopaal making it big. It is a messaging app for compatible and like minded  people. This application is  Growing strong with its android app launch with thousands of downloads.
Vivid:
Vivid is developed by The Appography another genius of Plan 9. It is an app focused  to lessen  the pain of customers that are lined up for their turn to catch on-call assistance. It modifies the traditional audio only IVR (interactive voice response) into an alluring visual and touch experience. It lessens the useless info consumption of information and also minimizes  the queue traffic.
Appography  is  the first Pakistani start up to receive funding from UK investors. It has achieved PKR 30 million from UK investors. This app  not only saves  time, but it  also makes customer service more multimedia biased. Through this  people are able to send in pictures or a sound clip  that's creating issue to customers. This will help out the customer service representative to give better assistance and not be so dependable on people describing their problem. There would be someone to talk to and moreover there would  be waiting times to speak to someone. But the main idea behind this application is to save the time of customers. Omer Khan from Appography explains that the usual sixty seconds of support-line calling can be replaced by six seconds of glancing and smartphone tapping.