Introduction:
Recently LG launched its new model namely LG G Pro 2. This model is considered as replacement for the current model LG Optimus G Pro. This smartphone has been unveiled in Korea yet and there are no such announcements of its selling outside the country. The phone has got amazing features including a quad-core processor, a flash for its front-facing camera, and collection of latest new software features. It is expected to launch globally at the end of February  in Barcelona at Mobile World Congress.
LG G PRO 2 Review:
Design of the Handset:
Coming towards the design of the LG G PRO 2, it is 6.21 inches tall, 3.22 inches wide, and slightly thick measuring 0.32 inches. The phone will be seen in three beautiful colors including white, red and titan. The phone is similar to the LG's previous model in design. The physical control keys such as power and volume buttons are same as that of the previous model. Furthermore, the phone features larger 5.9-inch full-HD IPS display with a 1,920×1,080-pixel resolution.
Hardware Features Of Handset:
The hardware features of the phone include powerful 2.26GHz quad-core Snapdragon 800 processor and an Adreno 330 GPU. It also features removable battery of 3200 mAh which is quite enough to keep your phone going throughout the day. Also there is a rear-facing 13-megapixel camera. The camera can capture any video in 4K Ultra HD resolution and slow-motion with 120fps. You will have access to various amazing features of the camera including "Magic Focus," through which you can easily adjust the depth of focus of an image. The handset has also got an amazing front-facing 2.1-megapixel camera with "LCD flash". Plus the phone offers high-power 1W speaker. Other remaining features of the phone include 3GB of RAM, 16GB or 32GB of internal memory, a microSD card slot and Bluetooth 4.0,  LTE-A connectivity, NFC.
Software Features Of Phone:
The phone runs Android 4.4 KitKat. This handset features new software and user interface features. It will come with amazing feature known as Knock Code. Through this feature, one can turn on one's phone as well as unlock the lock screen into one act. One can unlock the phone with passwords ranging from two to eight taps Another feature is Content Lock which allows users to protect any kind of content with help of passwords. There will be thousands of combinations accessible. The content might include certain files, photos, and videos. Mini view is another feature of this handset. This feature helps you to enlarge the display from 3.4 inches to 4.7 inches. You will have Dual Browser for the purpose of multi-tasking.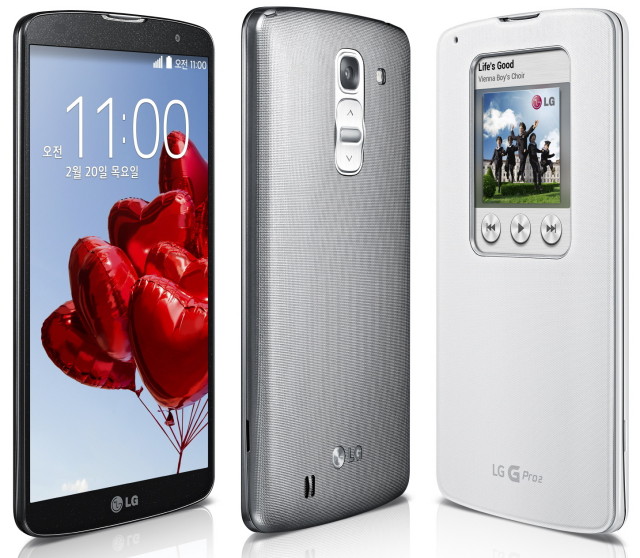 Price and Availability:
However there are no such announcements about the availability and price tag of the phone. They have yet to be determined by the company. However it is expected that this handset will cost about $199.99 on contract. We will update you as soon as we get an LG G Pro 2 in our hands and will provide you with our full review treatment. Stay tuned with us for more updates.